Rock The Choir combines the power of a rock concert with the soulful harmonies of a gospel choir.  The set list features classic rock tunes from artists whose appeal spans generations: Beatles, Michael Jackson, Rolling Stones, Talking Heads, and U2.  
These songs have deep roots in the gospel music tradition yet are seldom performed in a way that unleashes their power to inspire.  
Rock the Choir brings these songs to life powered by a seven piece rock band and the combined voices of Eddie Baltrip & The Fulfillment, a phenomenal San Diego based gospel choir. The band features veterans of San Diego's vibrant, multi-faceted music scene. Many of the performers have been nominated for multiple San Diego Music awards.
Rock the choir is perfect for theatrical venues seating 500 - 1200. Together with state of the art sound, lighting, and video, the show is dramatic, joyful, and delivers the best elements of what makes a great rock concert a transformative experience.
 La Jolla Band Rocks a Choir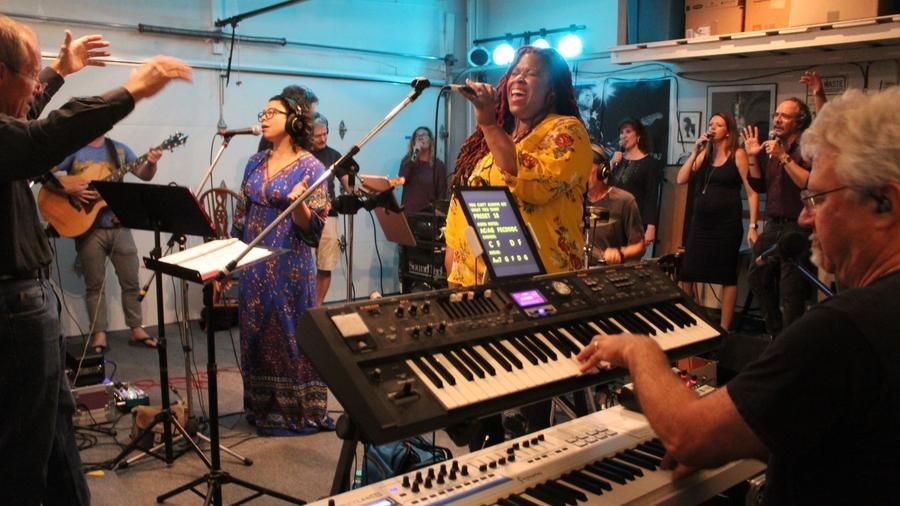 By Corey Levitan 
On most Monday evenings, in a ranch house overlooking I-5 atop Mount Soledad, church is held in the garage. Well, it sounds like church anyway. It features a full-on revivalist choir of 12 — highlighted by the beyond-soulful lead singing of Kristen Roberts and Rika Grier-Fairley, who could probably win "The Voice" if they tried — and five instrumentalists. But they're singing classic-rock songs, not spirituals. They include the Beatles' "Let It Be," The Band's "The Weight" and the Rolling Stones' "You Can't Always Get What You Want."  And the reverend is Jewish. 
For more than a year, Rock The Choir has been practicing for its debut performance at La Jolla High School. A couple of mornings after their second-to-last rehearsal, keyboardist and band leader Andy Shorenstein kicks back on the living-room couch of the same house and tells the Light how a Jewish boy from Long Island ended up taken to church. 
"My parents were very religious," he says. "They were one of the first Jewish families in my hometown of Oceanside. They were very strict with me and insisted that, up until the age of 13, you will go to temple! But the only spirituality I got out of it was is when we all sang together with the cantor. Those songs were sung with such longing, such pain, that it moved me."  Then, Shorenstein discovered the blues and gospel and, he recalls: "I heard the same pain, the same longing to be part of America from black folks that I felt the Jews had experienced. And I fell in love with the rock n' roll that was influenced by gospel, that deep-down, grindy blues-rock." 
Day jobs 
By day, Shorenstein is a workers' compensation judge, a position he was recommended for after having put in 25 years as an attorney in the field. "I am the judge, the jury and the fact-finder in these one-day trials where somebody's claiming benefits that are not being provided," he says.   All Rock The Choir members have day jobs, since ticket proceeds help fund music education programs in San Diego's public schools.  Grier-Fairely, a former choir director and church minister from Los Angeles, works as a mortgage underwriter for a Wells Fargo in Sorrento Valley.  Vocalist Roberts is an attorney.  And, Shorenstein promises, "you're not going to believe this one."  One of the choir members is an obstetrician, he says, "and she sings right next to a woman who is six months pregnant!" (Now there's a problem that could end up taking care of itself.) 
Glory days 
Before Rock The Choir, Shorenstein's passion project was a Bruce Springsteen tribute band that achieved local notoriety. Founded in 2008 by keyboardist, Springsteen obsessive and former La Jolla Country Day School parent Barry Rosenbaum, Thunder Road got to tour the Northwest — and headline the Belly Up and Anthology — before splitting up upon Rosenbaum's unexpected death in 2016.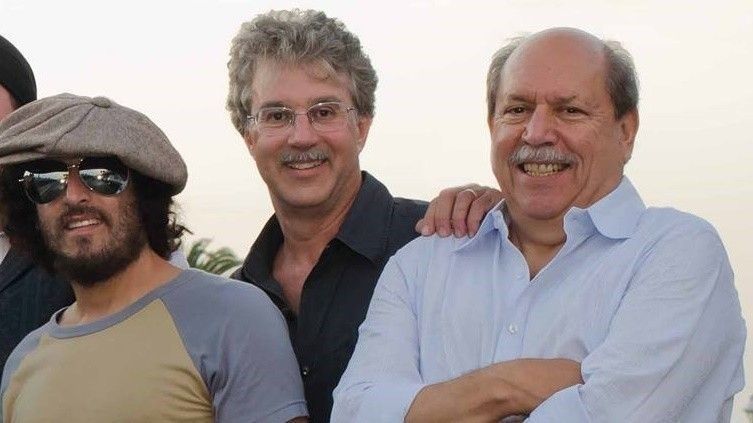 That's still an open wound that Shorenstein refuses to discuss. 
"But it made me stop and think that, you know, I'm not getting any younger," he says. "So I felt I needed to pick up the torch, and there was this Rock The Choir thing that I'd been talking about for 15 years. I even mentioned it to Barry once and he liked the idea. But I'd never done it, because everyone I'd ever explained it to responded, 'That would be such a hard job.' And I agreed." 
The logistics involved are intensely complicated. So many different people are doing so many different things at the same time — all of which need to be perfectly mixed — that a sound engineer as well as a choir conductor are required just to rehearse. 
"But when Barry died, I decided that I'm going to do it," Shorenstein says. "I'm going to do whatever it takes and I'm not going to give up. If I get people saying no, I'm just going to find people who say yes." Shorenstein assembled his dream band via recommendations from friends and advertisements he placed on craigslist and musician websites. Unlike his previous band, the object of Rock The Choir isn't to recreate, it's to reinvent, which is why Grier-Fairely takes many of the male vocal leads. 
"What someone as amazing as Rika is doing here, singing with me, I don't know, but I'm thrilled to have her," Shorenstein says. "With her talent, she should be very famous." 
Giving back 
It's neither coincidence, nor just geographic convenience, that Rock The Choir's first gig is at La Jolla High."I would like to see La Jolla have a choral program again," Shorenstein says. "There was once heavy funding and interest in the arts in this community. But I think, as money got drawn away from the School District in general, the first thing that took the hit was the music programs." 
Shorenstein thinks that getting students and parents excited about choral music might plant a seed. 
"My idea is to get the community to come out and hear people singing together again, and I want the audience to sing, too," he says. "These songs are songs that everybody knows and they were picked for that reason. Not only is my conductor conducting the choir, sometimes he'll conduct the audience, and we'll all sing together, just like I did long ago in temple."
And there is something wonderful and spiritual already happening between these talented musicians.